As of February 11, 2014, I understand the prophecies concerning Babylon the Great in the Books of Revelation, Isaiah, and Jeremiah to refer primarily to the United States of America. Please read the articles I have posted under Babylon the Great which refer to prophetic writer R. A. Coombes. Nevertheless, I still believe that false religion plays a huge part within this mystery. Therefore I am continuing to post my past articles concerning end time Babylon.
Revelation 17 and 18 concern "Mystery Babylon the Great."  Men have tried to understand John's revelation concerning it for two thousand years.  Now that the end of this age is at hand, the prophetic picture is getting clearer.  Just consider the tower of Babel which Europe has been creating: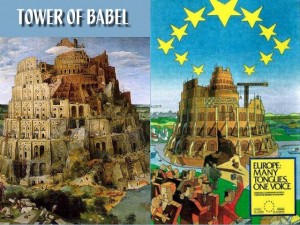 Mystery Babylon is false religion, whether that religion calls itself Christian, Muslim, Hindu, Communist, Nazi, Illuminati, Masonic, Atheist, Democrat, Republican, Libertarian, Imperialism, or anything else.  Men always die for someone else's "great" cause, but none of them, not one (except true faith in Christ Jesus), bring salvation to even one man.  Concerning Mystery Babylon John says, "in her was found the blood of prophets, and of saints, and of all that were slain upon the earth." (Rev. 18:24)
Yes, in Babylon the Great is found the blood of all murdered men and women during the entire history of the world.  It all began when Cain murdered his brother Abel for a religious reason, God preferred Abel's offering to Cain's and Cain was jealous.  And, what are the beasts that rise from the sea and the land?  These are the men and governments of men upon which the harlot sits and from whom she expects favors.  In fact, all men who do not "practice righteousness" comprise the many-headed beast from the sea and the earth.  Today we see the Beast beginning to turn upon the harlot.
THE MAIN GIST OF WHAT GOD DOES IS TO REMOVE FROM us ANY AND ALL RELIGIOUS EFFORT. THERE IS NOTHING OF THE RELIGIOUS WORLD THAT WILL IMPRESS FATHER IN ANY WAY. WE ARE ENDURING TRIBULATION TO REMOVE BABYLON (CONFUSION) FROM us IN ITS ENTIRETY. WHEN YOU GO BACK TO THAT BASIC, YOU ARE ONLY DOING WHAT ANY OTHER SON OF GOD WOULD DO, AND THAT IS TO REMEMBER WHO WE ARE IN GOD. RELIGIOUS EFFORTS HAPPEN WHEN WE THINK GOD NEEDS us TO "DO" SOMETHING. GOD DOES NOT NEED ANYTHING FROM us EXCEPT FOR FAITH. AND THAT IS HIS TO BEGIN WITH.  (by Kenneth B. Visscher)
The first set of  links below will take you to pages I have written regarding the Biblical doctrine of Mystery Babylon.  The second set of links take you to various pages and websites that reveal the true identity and nature of one of the world's greatest mysteries, Babylon the Great!
The Beast
Biblical Doctrine of Babylon the Great:
The Works of Babylon the Great: